Funeral Checklist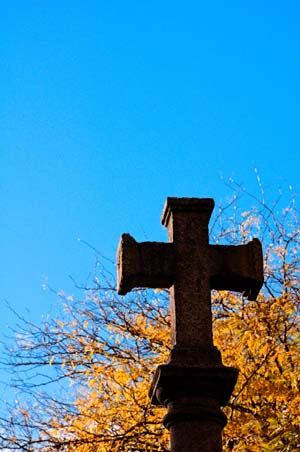 It can be hard to plan effectively when a loved one has just died and you're grieving, but if you're in charge of organising their funeral then a lot depends on you. Here's a simple checklist to help you through the process.
First, you need to make some big decisions. The deceased may have left instructions, and some decisions may be made for you by their religious faith, but if not you will need to decide whether they'd have wanted burial or cremation, whether to have a viewing of the body, and what kind of service would be appropriate. Should you organise a traditional service, or would something more unconventional suit them better - perhaps a humanist service, or a service held in a pretty garden instead of a church? You also need to work out your budget.
Once you have these basic questions figured out, you need to pick a funeral home. Even if it seems easiest at the time to just use your closest funeral home, shop around and ask for itemized price lists - funerals can be very expensive, and you need to find a funeral home that you're happy with and that will give you the best value for your money.
The funeral home will discuss with you your options for the service, and you will need to think about things like venue, minister or celebrant, transportation of the coffin, where to bury the body or scatter the remains, what clothes to bury or cremate the body in... They will have a range of caskets or urns you can choose from, or you might find you can get a better deal - or a model you prefer, perhaps an eco-friendly casket - from someone else.
Then you need to think about the service itself. You'll need to decide on an order of service. Will you include readings and tributes from friends and family? What music would be appropriate - traditional religious hymns, favourite songs of the deceased, something humorous?
You may well want to pick flowers to place around the casket and decorate the venue where you're holding the service.
Prepare a funeral program. This should include the order of service and, if you wish, personal touches like a eulogy or photos of the deceased. You might also want to compile a slideshow of photos or a video of clips to play during or after the service.
Will you have a wake for mourners after the service? You probably won't feel up to preparing food and drink yourself, so consider finding caterers to do it for you.
Write an obituary or death notice and send it in to your local paper. This should inform the community of your loved one's passing and of the date and location of the service. You may also wish to include biographical details and descriptions of the deceased's achievements. Ring or write to friends and family so that everyone who might want to attend the service knows when and where it is.
Good organisation is the key to arranging a successful funeral or memorial service that will be a fitting way of honouring the memory of your departed loved one.
Photo Credit: dcubillas