Funeral Programs: The Memorial Service Bulletin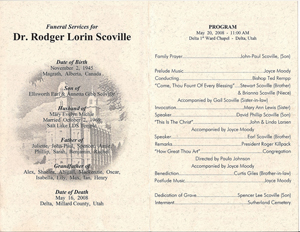 A funeral program - otherwise known as a memorial service bulletin, an obituary program or a funeral order of service - is a printed document handed out at a funeral or memorial service. It is both an outline of the upcoming service and a way of honouring the life and achievements of your loved one. It is often kept as a keepsake, a way of remembering the deceased.
The front cover of the program will generally be attractively designed, and include the deceased's full legal name (and any nicknames in parentheses), date of birth and date of death. It should also include the location, date and time of the service, and the name of whoever will be officiating. You may want to include a nice photo of the deceased and an appropriate caption, such as "In Loving Memory", or "In Rememberance".
Next comes the order of service. This should list, in the order in which they will occur, details of any music, readings, prayers, addresses and eulogies. It should also include the words for any prayers that everyone is expected to recite or for any songs or hymns that everyone is expected to sing. This information will, obviously, vary greatly depending on the cultural and religious beliefs of the deceased, and the nature of the service. You may want to contact the Officiating Minister, Eulogist or Pastor for the outline of the order of service. Your funeral director may also be able to help with information about what to put in this section.
Sometimes, a funeral program will contain a written obituary. This gives biographical information about the deceased's life: where they were born and lived, who their family were, where they went to school and work and what their achievements were, what hobbies they enjoyed and, where appropriate, any anecdotes revealing a much-loved side to the deceased's character. It is important that this biographical information is double-checked to ensure that it is accurate. Contact other family members, friends and acquaintances to verify facts and for any additional interesting information or stories about the deceased. They might also be able to provide special photos of the deceased.
In addition, you can, if you wish, choose to include a memorial poem, piece of scripture or favourite song, or print additional photos of the deceased with their friends and family. Try to include some more unusual photos - maybe of the deceased as a child, or in the armed forces. Some funeral programs also list the surviving immediate family members.
Make room on the back cover for thanking everyone for coming. You'll also want to thank the pall bearers (men who carry the casket) and flower bearers (women who carry flowers and put them on the altar), and perhaps the funeral home, and make any other special acknowledgements. You might also want to use the back cover to give details of the venue for the reception, or to make any donation requests.
It's easy to make your own program if you have a computer and a printer. This can be a great way to produce a personalised keepsake, exactly as you want it - religious or secular, conservative or fun and adventurous. Bear in mind that it will be treasured by many as a memory of the deceased, so try to make it a reflection of their character. A good way of saving time and making your program look more professional is to use a funeral program template - these can be found online, and come in all kinds of styles and sizes so that you can find one that suits the deceased, maybe because it incorporates flowers they liked, or is tinted their favourite colour. Make sure you use a paper stock heavy enough to make sure your program will last.
Funeral programs can be a touching and unique reminder of your loved one. With a little time and care you can produce something that friends and family will cherish forever.