Choosing a Coffin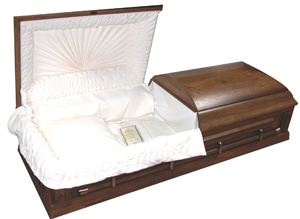 Coffins are used to bury the dead, and to display them if you have elected to have a viewing. They are one of the biggest expenses of a funeral, so it is worth thinking carefully about all your options before making a purchase.
Coffins are generally buried in the ground, either in a simple grave or a vault, but they can also be interred above ground, in a church, chapel or mausoleum. Some are specially designed for public display, like Lenin's glass coffin in Moscow.
A distinction is sometimes made between a coffin - traditionally six- or eight-sided - and a casket, which is rectangular. The lid of a casket can be cut so that just the left side is raised to allow the upper parts of the deceased's body to be displayed during a viewing. Outsize coffins are available, as are smaller ones for children, and all kinds of different colours can be requested.
Even if your loved one is to be cremated, chances are you'll still have to think about a coffin. Different countries have different regulations regarding cremation. It may be that a simple cardboard box seems the best option, but if there's to be a viewing before cremation you will probably want to rent a coffin with removable bed and liner to display the body. Alternatively, there are rentable coffins with cardboard boxes inside that can be simply removed with the body when the time comes.
Special measures are often taken to protect the body from the environment, and the environment from the body. A coffin might be locked, and sealed with a gasket. It might also be lined, often with lead, or encased in an outer shell of some kind, to prevent its contents contaminating its surroundings - this is particularly true with cases like individuals thought to have come into contact with radioactive materials.
You can choose from all kinds of different materials to make a coffin. The most traditional is wood, ranging from MDF up to expensive tropical hardwoods. Metal is also a common choice, due to its durability. Fiberglass is particularly good for moulding more unusual-shaped coffins. Eco-friendly materials like cardboard, recycled paper and willow are becoming increasingly popular.
You will also need to think about the fittings - the lining of the coffin and the pillow. Plus you'll have to decide on the coffin furniture, the handles and any ornamentation.
Spend some time thinking about what coffin best suits your loved one. If they were conservative and traditional, then a sober wooden coffin might seem most appropriate. If they were more anti-conformist, you could consider a coffin painted in a relevant design - motorbikes for a keen biker, flowers for a gardener, a tropical beach scene for a surfer. If they had a sense of humour, then get them a coffin custom-made in the shape of an aeroplane or guitar case or egg roll.
Above all, don't let yourself be pressurized by the funeral director into buying the most expensive coffin they have. And don't let them make you feel guilty for choosing a cheaper option - the deceased would surely not have wanted his or her funeral to send you bankrupt. The coffins at a funeral home will often be sold at a significant mark-up compared to their price direct from the manufacturer. Shop around for a style you like at a price you can afford. Often the best deals are to be found online. And get an itemised quote from your funeral director before telling them that you'll not be using one of their coffins, otherwise they may attempt to make up the revenue by bumping up prices elsewhere.
It can be difficult to make considered choices when in the midst of grieving, but there are many unscrupulous individuals who take advantage of vulnerability at this time. Step back, compare prices, and put a bit of thought into what kind of coffin your loved one would have liked to be sent off in.