Obituaries and Death Notices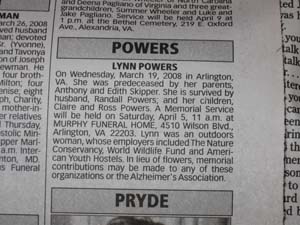 Following a death, it is customary for the bereaved family to publish a notice in the local newspaper. This is a way of honouring the deceased, informing the community, and providing details of the funeral service.
The length of these notices, and the information they contain, can vary. Generally speaking, a death notice is short and contains basic details; an obituary can be longer and include more biographical information.
The funeral home should be able to help you write and file an obituary with your local newspaper. Some newspapers will run death notices and obituaries for free, but most charge by the word or line. Check costs with the newspaper before sending anything in. Also ask about deadlines (you want your notice to appear a few days before the funeral or memorial service), if they have a preferred format and, if you also want to run a photo of the deceased, what size and format it needs to be in. You might want to submit your obituary notice to several local newspapers so that as many people as possible who knew the deceased are informed of his or her death. Consider also filing obituaries in places where the deceased was born or lived for a long period.
Because publishing a death notice or obituary in a newspaper can be expensive, if money is an issue keep it short. You can include a link to an online memorial, which can be longer. An online memorial also has the advantage that it can be viewed by people outside the community, and everyone can add their own memories and condolences.
A death notice should include the deceased's full name, age, where they lived, and time and place of death. It should also include information about where and when the funeral or memorial service will be held.
An obituary contains all of the above information, plus further biographical details. It should note when and where the deceased was born, the names of any surviving relatives, and where people can make donations in remembrance or send cards and flowers. It can list schools attended and educational level obtained, jobs held and key achievements. Some people like to note the deceased's hobbies and interests, and include a few anecdotes.
Whether you're writing a concise death notice or a lengthier obituary, make sure that all names are spelled correctly and that you double-check your facts - you don't want people turning up for the funeral on the wrong day, or upset relatives angry that you've got important details mixed up. Make sure you don't leave anyone off the list of surviving relatives. Generally it's best to avoid humour - keep the tone respectful and give a straightforward account of your loved one's life and passing. Speak to people close to the deceased to get ideas and to check facts. Send copies of the obituary to friends and family who live out of town and can't buy your local newspaper.
Writing an obituary or death notice might be difficult while you're going through the grieving process, but done correctly it can celebrate the life of your loved one, and inform all friends and family of their passing.
Photo Credit: dcubillas